X Factor wannabe Roxy Yarnold has strong links to former judge Simon Cowell and current panellist Louis Walsh, according to reports.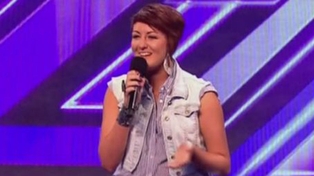 Roxy Yarnold
In 2007, 19-year-old Roxy Yarnold supported Westlife, Shayne Ward and G4, who have all been signed to music mogul Simon Cowell's Syco record label. Now it looks as though theX Factor wannabe who received four 'yes' votes on Saturday night, may be in a tricky position.
Speaking to the Daily Mirror newspaper a source said: "She's portrayed as a struggling pizza waitress but in actual fact she's been singing alongside the crop of Syco talent since an early age. She's supported not one, but three Syco acts."
Following her performance of Ray Charles' hit Georgia On My Mind, Tulisa Contostavlos admitted that she would love to mentor the X Factor wannabe saying: "You absolutely blew me away and I would love to mentor you."
In a recent statement a spokesperson for the hit TV show stated: "Throughout the history of X Factor, there has been auditionees who have been involved with the music industry before."
They added: "Nineteen-year-old Roxy was touring at the age of 14 but has been out of the industry since then. She was eligible to enter as she has no record or management deal in place."
Source: RTE.ie